A Comprehensive E-commerce Solution for Modern Businesses
In the evolving landscape of online commerce, Shopify stands out as a robust, cloud-based e-commerce platform tailored to empower businesses—whether they're an emerging startup or expansive enterprises—to establish, manage, and amplify their online presence. This platform is not just about selling; it encapsulates the entire business process from online display, point-of-sale engagements, to channelizing sales via social media platforms.
---
Key Advantages of Shopify
Several facets of Shopify distinguish it as a leading choice for e-commerce ventures:
User-Friendly Interface: Shopify's intuitive design ensures that even those with limited technical expertise can set up and run their online store without hitches.
Growth-aligned Scalability: One of Shopify's most significant assets is its ability to grow alongside your business. This adaptability ensures you won't need a platform switch amidst business expansion.
Holistic Features: From intricate product management, streamlined payment processing, to logistical aspects like shipping and outreach, Shopify covers the gamut of e-commerce needs.
Security Prowess: In a world where data breaches are increasingly common, Shopify prioritizes safeguarding customer data, ensuring trust in transactions.
Stellar Support: Round-the-clock support ensures that businesses always have a helping hand should challenges arise.
---
Varied Pricing for Diverse Needs
Shopify's pricing structure is tiered to cater to varying business needs: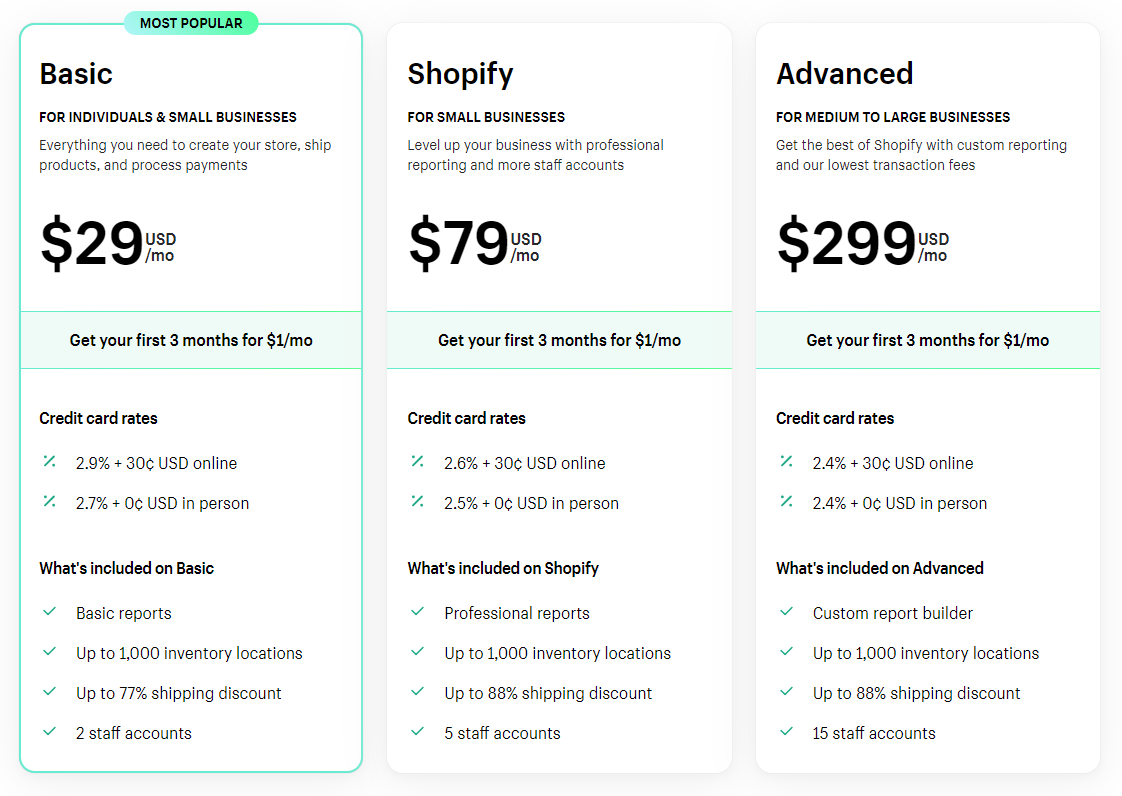 ---
Catering to Newbies and Giants Alike
While Shopify is versatile enough for businesses of all magnitudes, it ensures dedicated resources for different stages. Novices can leverage the 14-day free trial and extensive tutorials to kickstart their journey. In contrast, corporate giants can tap into the bespoke offerings of Shopify Plus, designed with enterprise-specific nuances in mind.
A Legacy of Success
Shopify's track record is underscored by its association with several success stories:
Fabletics: An exclusive Shopify-powered activewear brand, Fabletics' journey has crescendoed to over $1 billion in revenue.
Allbirds: This distinct shoe brand, straddling online platforms and select brick-and-mortar establishments, has garnered over $1 billion in investments since its inception on Shopify.
Away: A testament to Shopify's versatility, Away, a luggage brand, has mobilized over $700 million in investments since its Shopify launch.
---
Conclusion
Shopify is a versatile e-commerce solution that integrates both simplicity and capability. From facilitating online transactions to fostering in-person sales and social media integrations, its holistic approach provides businesses with the tools they need for sustained growth in the digital marketplace. For those aiming to carve a niche or expand their footprint in e-commerce, Shopify stands as a compelling choice.